Welcome to the heart of "the firstborn"
Piacenza and its province are a territory to be seen and discovered in its entirety, where art and culture embrace the culinary tradition. Here, the magic of historic villages meets the enchantment of ancient manors, becoming a pure exploration and relaxation when accompanied by the DOC wines of the Piacenza hills and enhanced by the intense and delicate flavors of typical local dishes.
Piacenza, the Firstborn of Italy (in 1848, it was the first Italian city to vote for annexation to the Kingdom of Sardinia through a plebiscite), an ancient Roman colony, has hosted pilgrims, medieval battles, Renaissance splendor, refined collectors, and sensitive patrons. It welcomes tourists, offering various attractions while telling the story of a territory with ancient knowledge and the innate hospitality of its inhabitants.
Visiting the city, you will discover museums, churches, and stately palaces. But if you lift your gaze, you will notice that the surrounding hills are also dotted with wonders, splendid residences, refined castles, and characteristic medieval villages. It is a diverse territory that extends from the right bank of the great river Po, with its countryside defined by hedges, fields, and rows of poplars, to the foothills of the Ligurian Apennines, divided into four main valleys (Val Tidone, Val Trebbia, Val Nure, and Val d'Arda) created over the centuries by the flow of the rivers that run through them.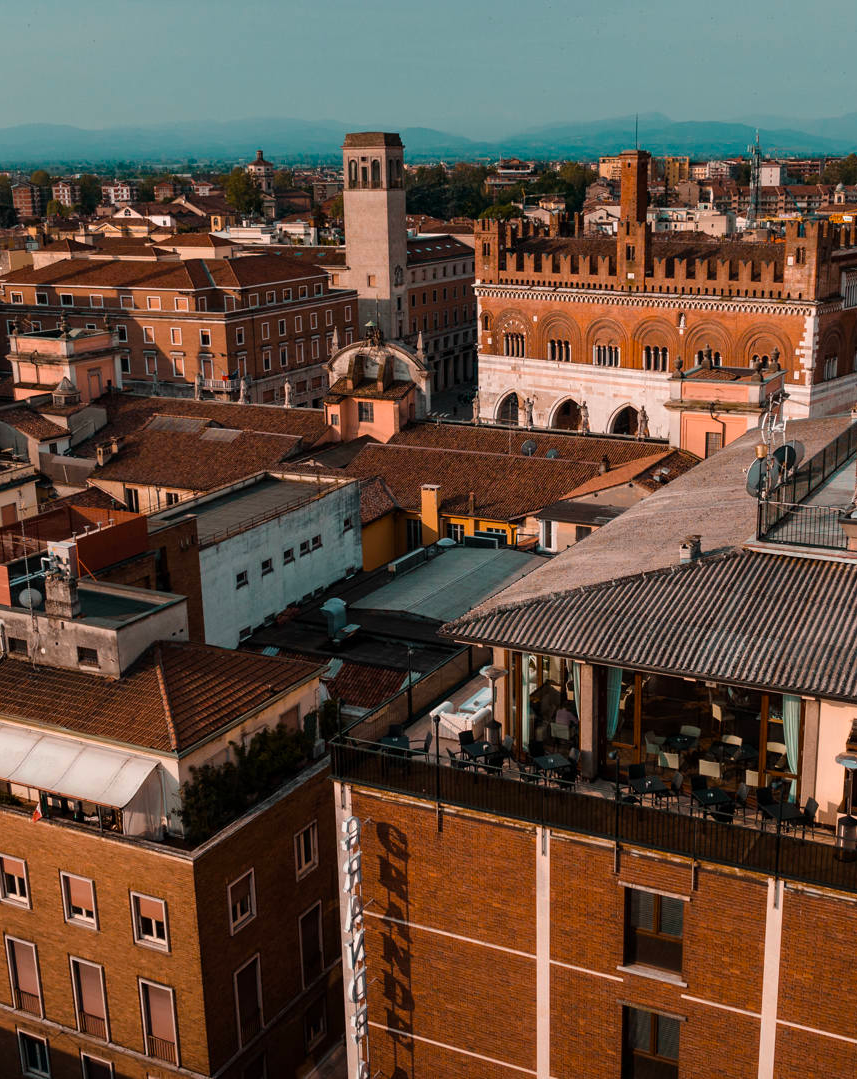 A leisurely shopping experience
For fashion and shopping enthusiasts, there's nothing better than taking some time to stroll through the streets of downtown Piacenza and treating yourself to an aperitivo, perhaps with a view of the Gothic Palace.
There are also plenty of opportunities for those who want to explore the area by car, motorcycle, or bicycle. Here are just a few recommendations:
There are many open-air markets held on a weekly basis in the surrounding towns of Piacenza. They are a great opportunity for those in search of local, zero-kilometer agricultural products or delicacies such as mushrooms and truffles.

There are also numerous factory outlets and dairy farms where you can buy cured meats and cheeses directly from the producers. This is a unique opportunity to taste fresh and high-quality local products.

For enthusiasts of vintage and antique items, there are some not-to-be-missed events such as the "Vintage, Used, and Small Antiques Market" held in Castelvetro Piacentino every fourth Sunday of the month, or the "Antiques and Vintage Market" held on the first Sunday of the month in Cortemaggiore.
Foodies are spoiled for choice
Even the palate deserves its share, and in Piacenza, there are more ways to satisfy it than one can imagine. Not surprisingly, the region is known for its good food and especially for its good wine since ancient times (Cicero mentions it and extols it in the Licino Sestulo Forum with the words "Vinum merum placentinum laetificat," meaning "the pure wine of Piacenza delights").
Cured meats, cheeses, wine, and cuisine were showcased, for example, in the 18th century at the court of King Philip V of Spain, husband of Elisabeth Farnese, and to this day, they continue to delight food lovers throughout Italy and beyond. Anolini, pisarei e fasò, and bomba di riso are the most well-known dishes of the renowned Piacenza cuisine. Furthermore, the region offers a rich selection of PDO and DOCG products.
Cheeses like Grana Padano PDO and Provolone Valpadana PDO are the most famous and widely consumed cheeses in the Piacenza area. Emilia is known as the "kingdom" of pork, but in Piacenza, its sovereignty is absolute, with three PDO cured meats: Coppa, Pancetta, and Salame piacentini.
Appreciated by Cicero, popes, and kings such as Pope Paul III and King Charles III of Spain, up to the present day, the DOC Colli Piacentini wines are now 17 in number (although there is an ongoing redefinition of this classification), including Gutturnio (made from Barbera and Croatina grapes) and Ortrugo.
Exhibitions, fairs, museums, theater reviews: food for the soul
Art, history, and tradition intersect and settle throughout history, in the city and in the many villages of the Piacenza valleys. Here are some ideas and suggestions for curious visitors:
Collegio Alberoni, where you can admire Antonello da Messina's "Ecce Homo," one of the greatest masterpieces by the Sicilian painter, preserved in Piacenza since 1761.
Ricci Oddi Modern Art Gallery, with its portrait "Portrait of a Lady" by Gustav Klimt, a painting that has been the subject of an incredible story of discoveries, disappearances, and recoveries over the years.
Municipal Theater, a splendid example of late 18th-century architecture, and its rich season of shows and concerts.
Archaeological area of Veleia Romana, an ancient Roman city of small dimensions among the most important testimonies of the era in Northern Italy.
Archaeological Park of the Neolithic Village of Travo.
Apimell, the most important international trade fair exhibition on beekeeping held annually at the Piacenza Expo fairgrounds.
Floravilla, an annual flower and garden plant trade fair exhibition in the park of Villa Braghieri in Castel San Giovanni.
Confluenze, a biennial festival held in various locations in Val Tidone.